Little Motor, Little Tires, Little Nitrous...

The ClutchTamer Shop Mule's Hybrid PCV/Electric Crankcase EVAC System...


Below are some pics of the hybrid pcv/electric crankcase evac system on my Shop Mule street/strip car. The engine uses low tension 12lb oil rings, without any sort of crankcase evac system it went thru a quart of 5W-20 Mobil 1 in about 250 miles. With 15"Hg of crankcase vacuum @ 2500rpm drawn by the DIY adjustable PCV valve alone, takes all summer to go thru a qt of oil. The current engine also has 12lb oil rings rings and takes all summer to go thru a qt of oil, but it was upgraded to 10W-30 oil due to it having aluminum rods. Been using this same evac system since 2012, never gotten more than a drop or two of oil in the bottom of the separator tank. The pcv isn't pulling any oil either.
The valve covers are circle track units that come with welded fittings for crossover breathers. We made some push-in fittings to replace the crossover assy (machined from Delrin plastic and feature double o-rings), making them easy to remove when adjusting valves or adding oil. No baffles at all inside the valvecover...
The oil separator is glued together from common schedule 40 PCV pipe and fittings, then turned down in a lathe just to make it look a little better. Holes were made using a holesaw in a drill press, the hose barbs are made from plastic ABS pipe connectors. The whole thing with bracket only weighs about 8oz. The large hose exiting the bottom of the separator connects to the inlet of the electric pump that's mounted behind the car's firewall...
This hybrid system uses an electric pump that's sort of hidden between the firewall and dash. The electric pump pulls around 4" Hg on 12v, about 8" Hg when powered by a 18v cordless tool battery pack. This pump only gets turned on when the nitrous system is armed...
The electric vac pump is a Delco 215-425, available new from ebay or amazon for around $100. The hoses are -12 lightweight pushloc (3/4" id), and fit the electric pump's ports perfectly. The pump can also be found in wrecking yards, as Ford used it on various models as a smog pump, but they also used it on Mustang Cobra R's as a crankcase evac pump for the supercharged engines. They can be mounted in any position. The only modifications needed are soldering the motor wires to prevent overheating, and removing the foam inlet filter from the housing. I also attached an exhaust hose to route the fumes outside the passenger compartment, under the car. On the end of that exhaust hose, there's a large check-valve that allows the pcv valve to draw a vacuum without the electric pump being turned on.
One huge side benefit...no more engine oil leaks!!!
Here's a look at the inside of these pumps. With the rubber motor cover removed, you can see the spade connectors that have to be soldered to keep them from overheating or vibrating loose...
Here you can see the foam filter that needs to be removed...
Most of these pumps are basically the same internally, just clocking of the inlet/outlet is different. Here's a list of vacuum drawn at various voltages...
...1"Hg @ 9.5v
...4"Hg @ 12v (draws 12amps @12v)
...7"Hg @ 16v
...8"Hg @ 18v
The pumps flow freely internally when not running, so a failed pump will still vent crankcase pressure and not damage the engine. Most of the noise that the pumps emit comes from their exhaust port, which sounds much like a vacuum cleaner. With a pump mounted inside the car, the pump cannot be heard when the engine is running.
Here's a short list of applications and part numbers to look for...
Delco 215-425
Autozone 32-3501M
A1-Cardone 32-3500M
Ford F6ZE-9A486-DC
'07 Cobalt
'03-'09 Mustang Cobra R
8 cyl SVO Taurus
When buying re-mans from parts houses, some have reported that their's came without the cover, so be sure that the pump you buy comes complete before you order it.
Evac pumps don't really increase power much themselves, but they do allow you to run lower tension piston rings which can net you quite a bit of power. The reduced cylinder wall friction also increases mileage and the engine runs cooler as well.
Quick crude example...
Take two mostly identical engines, except one shortblock requires 40ft/lbs to roll over using regular oldschool piston rings, the other uses a modern low-tension ring pack and requires only 13ft/lbs to roll over. That's a constant savings of almost 8hp at 1500rpm. If your car cruises at 2500, that equals a constant savings of roughly 13hp while you are driving down the hiway. As a bonus, WOT at 7000rpm, the low-tension shortblock would have about 36 more hp on tap. The bores will also show a lot less wear.
---
Here's a pic of a pcv valve cut open, just to show what's inside...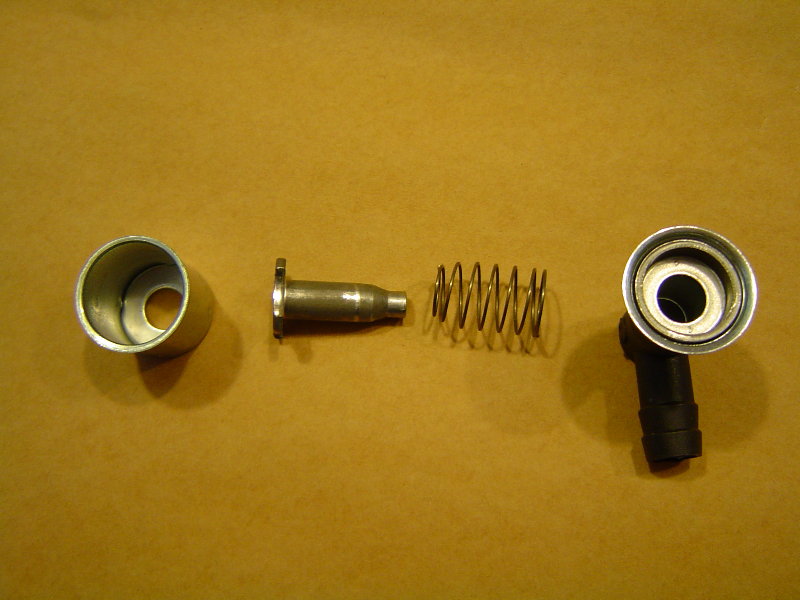 I added a long screw to the top of the valve's plastic elbow, which allows me to adjust the minimum flow position of the valve's tapered piston. Basically by adding that adjustment screw, I basically turned the pcv valve into an adjustable orifice without disabling it's reverse flow check-valve feature...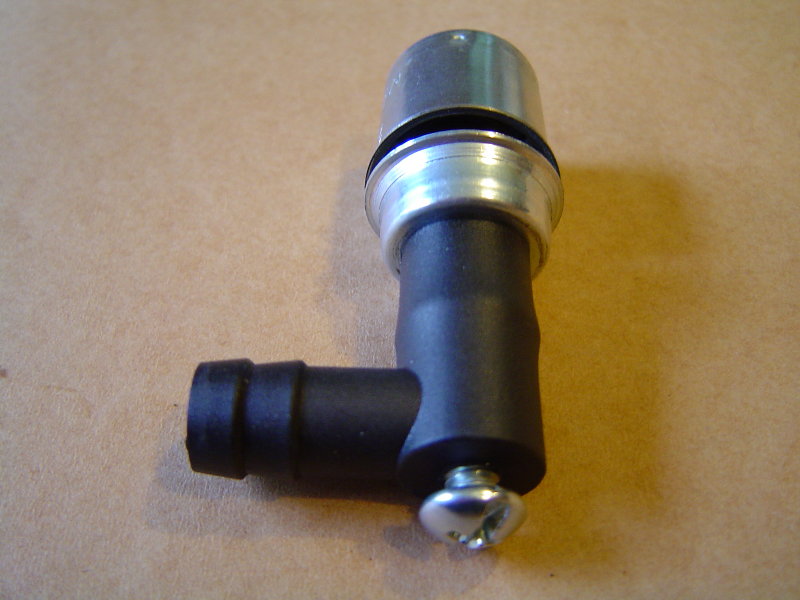 With low tension (gapless top) rings in the engine, 4 spd manual, 3.73 gears, and no overdrive, the Shop Mule spins about 3000rpm down the freeway. Without a good vacuum on the crankcase, it went thru a quart of 5W-20 synthetic in about 250 miles. Initially the electric vac pump worked ok by itself, the purpose of adding a pcv valve to the system was to eliminate vacuum pump's constant 14amp draw on the car's electrical system. In spite of spinning 3000rpm down the freeway, the car still gets around 20mpg.
With this hybrid pcv/electric evac setup, there is no need to worry about over-heating the electric vac pump, as it's only used for a few seconds at a time when the nitrous comes on. Since i'm only using the electric vac pump for short bursts of WOT, i could easily power it with a 16v or 18v cordless tool battery pack if i wanted to, but I have not seen a need to do that even when spraying a 250 shot.
Here's a RacePak graph showing crankcase vacuum during a 6.25sec long WOT 3rd gear pull using ONLY the pcv valve as the vacuum source. Nitrous system was NOT turned on, electric pump was NOT turned on, this pull was NA.
...Red line- engine rpm
...Blue line- WOT switch
...Yellow line- crankcase vacuum
The pull started out with 12.6"Hg @ 2600rpm. When the pull ended at 6250rpm, even without the electric pump running the crankcase still had 3.9"Hg of vacuum left. I should add that the 355" engine is well sealed, no dipstick (oil level sight glass), Total Seal gapless top rings, and a 114 LSA nitrous cam.
Note for those with BOOST that may be concerned about possible check valve failure...the pcv valve acts as a check valve if the flow direction is reversed, so an in-line check valve failure under boost conditions would make the pcv valve revert to it's highest restriction mode. Due to the electric pump's flow thru impeller design, any resulting crankcase pressure would be relieved thru the electric vac pump's outlet port, even if the pump were not on or had failed.
---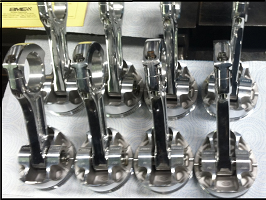 .